Hoodoo Psychics
1-888-4-HOODOO
Get an instant reading with a hoodoo psychic trained in the

- OR -

To call me now, using your credit card as a payment method, click on the green "Call Right Now!" button. Your credit card will be billed by Hoodoo Consulting at the rate of $3.99 per minute.
To prepay for a scheduled reading using Paypal as your payment method, click the "Pre-Schedule A Reading" button, then select the length of reading you want at the rate of $75.00 for 30 min ($2.50/min). Note that in order to get this SPECIAL PRICE, you may be scheduled as far ahead as TWO TO FOUR WEEKS from today.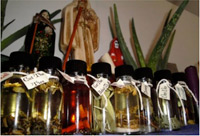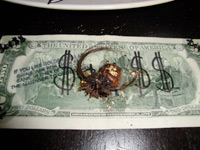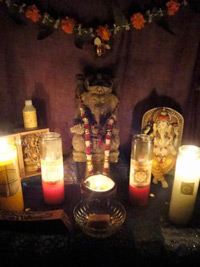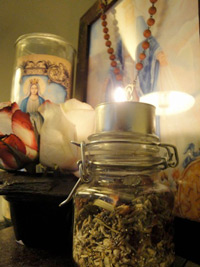 Hoodoo Psychic
Devi Spring
Call 1-888-4-HOODOO ext. 3384
$3.99/min.
I am a spiritual conjure worker, graduate of Rev. catherine yronwode's Hoodoo Rootwork Correspondence Course, an initiate of the Hindu Gaudiya Vaishnava lineage, a passionate Santisma Muerte devotee, and a Usui Reiki Master-Teacher. Coming from New Orleanian and Mexican-American heritage, I am lifelong student of the mystical and magical and hold Religious Studies B.A. from the University of Toronto
I work best for clients who are willing and motivated to take direct proactive measures to achieve their goals for personal empowerment, and opening roads to and drawing new good fortune in love, money, business, and career.
Performing divinations using tarot cards, geomancy, providing spiritual consultations with rootwork advice, and providing magical coaching are my favorite activities as a practitioner. I enjoy facilitating clients' journeys with a spiritual shove in the right direction by crafting mojo hands, bottle spells, oil lamps, and old styleconjure packets which clients may work with in an ongoing manner.
I will not take client cases for reconciliation, nature binding, third party divorces, court cases, custody issues, law keep away, gambling, crossing, revenge, or magical warfare.
Born and raised in Florida, I grew up in a Pentecostal Christian church, immersed in an environment where spiritual signs and wonders were commonplace. Coming from a maternal line of gifted women, I've found our familial spiritual gifts lie in the areas of exhortation, encouragement, knowledge and wisdom, as well as writing and teaching. These gifts manifest in me primarily through claircognizance and clairaudience, with occasional flashes of clairvoyance and clairsentience. I've always been the person others are drawn to when seeking counsel and am gifted with being able to aid them in a spirit-led manner.
My maternal ancestral line has been rooted in New Orleans and its Catholic-inspired conjure since the mid-1800s, and my Mexican-American paternal heritage has led me to incorporate aspects of Mexican folk magic and Catholic saint work into my practice. I am an ardent devotee of Santisma Muerte, and also maintain altars to St. Dymphna, the Virgin of Guadalupe, and Dr. Jose Gregorio Hernandez.
In addition to my studies in North American conjure and folk magic, I also received several initiations in Hermetic Golden Dawn Ceremonialism through Temple Isis Urania. Qabalistic methods still inform my work, as can be seen in my regular inclusion of Solomonic Planetary Pentacles in my crafts.
In my early 20s I found myself called by Sri Ganesha, who opened the way into a practice deeply inspired by Hindu and Buddhist traditions, and the magical use of mantras for powerful transformational and manifestation work. After years of study and practice, I was formally initiated into the Sri Chaitanya Saraswat Math of Gaudiya Vaishnavism by Swami B.V. Tripurari at his ashram in 2016. Durga Ma, Sri Lakshmi, and of course Sri Krishna are also housed on my altars.
I've maintained an energetic healing practice since 2000, and value working with people facing mood disorders and anxiety, and other issues effecting self-esteem and confidence – all of which I have direct personal experience with, providing me with a unique perspective and depth of understanding. My Usui Reiki training allows me to provide distance healing for those who may require it. I also regularly practice Buddhist meditation and am a strong advocate for the transformational power of mindfulness. Meditation coaching is another service that I offer to clients to help them cultivate greater balance and peace of mind.
I respect and honor all paths, and am happy to work with clients from all traditions.
You may read more about me at my Queen of Pentacles Conjure Shop website.
Testimonials
"Thank you so much for this in depth and insightful consultation during this difficult time. You speak so clearly and I understand everything you said. Thank you so much for your caring guidance. I would recommend this to anyone needing some answers to difficult circumstances." - J.L.
"Very in-depth and personal reading completed with a timely manner! Very compassionate reader, gives WONDERFUL advice. Devi really knows her stuff. I was blown away by the reading she gave me. I will definitely go to her again!" - S.C.
"Thanks to your advice Devi, my current boss and her lady friend adore me now! They are still close, but the supervisor sees other people and their good work now too. We are having some restructuring on our floor so there may be some changes coming my way in terms of promotion too!" - E.S.
"Thank you for the consultation! It is a relief actually. I have proven to myself that I can make great money so I have consciously divorced my mind of the wish for my trust funds. Turns out I am capable on my own in my job. Thank you for your reading Devi, all the words rang true even though it had to be tough love, glad I found you." - C.V.
"I cannot express how much I would recommend this [custom bottle crafting] to other people. When my bottle arrived today I was overcome with joy! It was crafted to my needs. I was updated with photos and asked questions about my situation. It's a wonderful crafted bottle made with love, concern and power." - E.C.