Hoodoo Psychics
1-888-4-HOODOO
Get an instant reading with a hoodoo psychic trained in the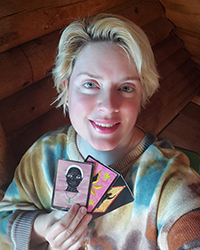 - OR -

To call me now, using your credit card as a payment method, click on the green "Call Right Now!" button. Your credit card will be billed by Hoodoo Consulting at the rate of $3.99 per minute.
To prepay for a scheduled reading using Paypal as your payment method, click the "Pre-Schedule A Reading" button, then select the length of reading you want at the rate of $60.00 for 30 min ($2.00/min). Note that in order to get this SPECIAL PRICE, you may be scheduled as far ahead as TWO TO FOUR WEEKS from today.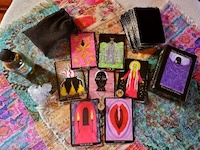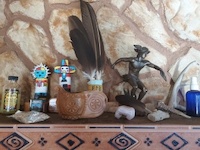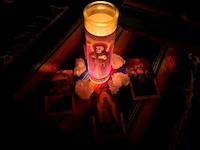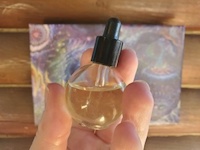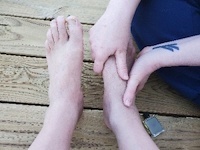 Call 1-888-4-HOODOO ext. 4444
$3.99/min.
My name is Freya Rose, and I have a passion for helping people who are at a crossroads in their lives, who are awakening spiritually, and those curious about their own spiritual gifts. There is nothing more rewarding than connecting someone with their spirit guides, or watching them realize that, yes, they've been a psychic empath all along! I am a clairaudient who hears answers as I read for people in my mind; a clairvoyant who sees visions, and a claircognizant who "knows" what messages spirit has for you — all psychic gifts I use to help you get the information you need to make an informed choice about which direction to go.
For readings, I mostly use the Tarot of the Crone card deck, which has the energy of a wise old lady who will give you some stern, but loving, advice. I also read with runes from the Nordic tradition. My readings are very straightforward, always honest, but given to you with kindness and compassion. We've all been through dark nights of the soul, or had some less-than-savory lovers — I get it, and I will never judge. I am also comfortable discussing death or dying, and holding space for those in a place of grief.
I channel the Norse goddess Freya, although I'm not a strict adherent to any particular religious path. I find that guides and gods come to me from all over, and are all part of the wide web of divine creation. For example, I work with the Greek deity Hermes, but sometimes he comes to me as the Voodoo lwa Papa Legba, or the black man at the crossroads from the hoodoo tradition. Sometimes his female counterpoint, the Greek goddess Hecate is at the crossroads instead, guiding us with her raised lantern and keys jangling at her side.
As for rootwork, I'm highly passionate about cleansing people and teaching them good spiritual hygiene so they can cleanse and spiritually protect themselves, their spaces, and their loved ones. I work with Vulture medicine, brushing people down with sacred feathers to remove any negativity or spiritual "gunk" they may have collected, performing in-person foot washing, energetic cleansings at a distance. and empowering folks to know how to use traditional hoodoo spiritual supplies such as baths, washes, and waters to bathe and cleanse themselves going forward.
I believe when we listen to these guides, be they deity, angel, or venerated ancestor, we are talking to other aspects of creation that simply have a better vantage point than we do, and can help us get a clearer view of the path ahead. Come to me if you would like that kind of guidance and clarity, or if you are looking to connect with them for yourself, and I'll be delighted to help. I also do Spiritual Healing via a fire the angels Sandalphon and Gabriel gave me, as well as hands-on Cleansing and Foot Washing in Mora, New Mexico.
I am Non-Binary, a blend of male and female, and respond to all pronouns, i.e. Him/Her. Thank you!
I can't wait to meet you!
You may read more about me at my Freya Healings website.
I offer hoodoo psychic readings with these tools and methods:
Tarot Reading, Runic Divination, Communication with the Dead and with Spirits, Psychic Readings.
I use conjure to help you with these spiritual conditions:
Blessing, Cleansing, Healing, and Tranquility, Protection From Enemies, Warding Off Evil, and Safe Travel, Jinx Breaking, Uncrossing, Reversing, and Road Opening, Spirituality, Psychism, Mental Influence, and Dreaming.
I perform rootwork using these spell casting techniques:
Altar Work and Prayers Bottle Spells and Honey Jar Spells, Mojo Bags, Conjure Hands, Nation Sacks, Jomos, Trick Bags, and Jack Balls, Hand-made Dressing, Anointing, and Ritual Conjure Oils, Incense, Sachet Powders, Bath Crystals, Floor Wash, and Herbal Spiritual Supplies, Cleansing at a Distance, Foot Washing, Working with Spirits, Angels, Saints, and Deities, Working in the Graveyard, Working at the Crossroads.
Testimonials
"This was such a gift! The kind of insights and guidance Freya Rose provided was incredible and magical. I was touched, surprised and enlightened by aspects I didnt know. Thank you so much for helping me understand my gifts and abilities Freya!" -- SiaLight
"She's an absolute sweetheart! She didn't say at all what I wanted to hear, but she delivered the news in a really, really kind and compassionate way." -- Lovelost
"I love her! She picked up on things I didnt say. She was so right with the cards. I had to laugh because she had 1 thing right that me and a person in question had a explosive time with. Great reading ♡" -- MeredithNow
"Very fun and accurate reading! She discovered things I didnt tell her in her unique cards." -- Taurus88
"She picked up on my abilities without me telling her and only real psychics can do that. She is also really nice and direct." -- BeckyPaige
"Super honest, great energy. I could resonate with all that she shared with me." -- Zintle
"Really great experience she's definitely one of a kind." -- Quesha
"Very good reading. A lot of great insight, very accurate, great advice. Thank you." -- EmilyWells
"Loved my reading. Freya Rose has an awesome energy. And tells it like it is. I feel really good about what's to come. THANK YOU!!" -- Nichole
"Excellent. Told me things I needed to work on and appreciate it sooo much." -- WidowLikeRy
"Thank you this reading put things into perspective and very accurate regarding the situation and poi was really good." -- Strawberry85
"She's amazing I loved her energy she was very compassionate and understanding about my situation and very on point and nonjudgmental and felt what I felt my mission was love u girl." -- Eyeris93
"This lady is charming and really helpful and she gives fabulous advice." -- LisaMoss