Hoodoo Psychics
1-888-4-HOODOO
Get an instant reading with a hoodoo psychic trained in the

- OR -

To call me now, using your credit card as a payment method, click on the green "Call Right Now!" button. Your credit card will be billed by Hoodoo Consulting at the rate of $3.99 per minute.
To prepay for a scheduled reading using Paypal as your payment method, click the "Pre-Schedule A Reading" button, then select the length of reading you want at the rate of $45.00 for 30 min ($1.50/min). Note that in order to get this SPECIAL PRICE, you may be scheduled as far ahead as TWO TO FOUR WEEKS from today.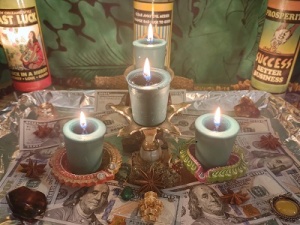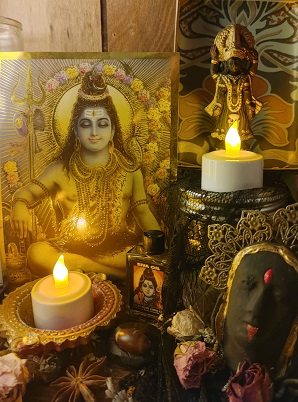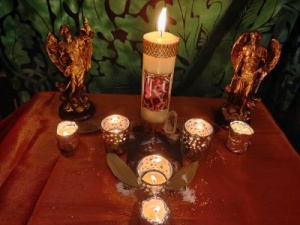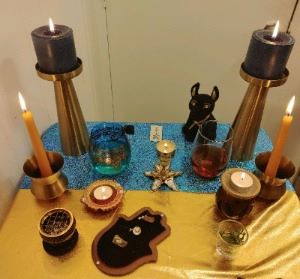 Call 1-888-4-HOODOO ext. 7779
$3.99/min.
Blessings to all who read these words! I am grateful to be an ordained Minister, Rootworker, and an initiated Priestess of both British Traditional Witchcraft (initiated July of 1999) and Gardnerian Wicca. I am also a trained eclectic Celtic Reconstructionist Shamanic Hedgewitch. I am delighted to help those of all faiths with their spiritual needs.
I was raised in a devout Roman Catholic family and have always felt the presence of the Divine strongly. At a young age, I realized my beliefs were a bit broader than Catholicism allowed for, so I started researching the world's religions and spiritual practices. That was how I discovered rootwork, witchcraft, Paganism and eclectic hedgewitchery.
I come from a long line of Hungarian farmers gifted in spiritual and herbal healing. I am clairsentient and claircognizant. I grew up learning how to grow all things green and the use of herbs from the moment I could put my hands in dirt. My favorite divination tool is the tarot which I have been working with for 30-plus years. I also use other decks, the pendulum, and runes.
I bought my first deck of tarot cards when I was 11. I started reading for friends soon afterwards and had several strong experiences which reinforced to me that there is indeed a greater, Benevolent Power guiding us. I also experienced occurrences which were malefic so I started learning purification, banishing, and protection work as soon as I could. As a result, some of my specialties are house cleansings, haunt remediation, spiritual home protection, and blessings.
My father practiced hypnosis in medical settings and at parties and taught me when I showed interest. It is a practice I have continued throughout my life. I have studied with licensed hypnotherapists to further my knowledge.
At 27, I quit a horrible post surgical opiate addiction. I sent out a spiritual call for help and was answered by Lord Shiva, Kuan Yin and Papa Legba. I worked with these three deities very intensely for the eight months it took me to quit. I was led to work at the crossroads and conduct cemetery work through my healing process and still find it deeply fulfilling. I taught yoga full time for six years afterwards in thanks for my healing miracle.
I signed up for Miss Cat's Hoodoo Rootwork Correspondence Course in 2019 and graduated in 2021. During prior years, I received spiritual training from teachers including Lady Marion, Lady Miriam, several British Traditional and Celtic Eclectic covens. I have also practiced ritual and taken workshops from Raven Grimassi, Sharanya, Mary K Greer, Thalassa, Hexeba Theaux, Drew Ward, and others.
I have also trained in Renaissance astrology and practice Hellenistic astrology. I enjoy creating custom astrological talismans to give my clients the energetic edge they seek.
I especially love using Psalms, working with Archangels, setting lights, using herbs, creating custom mojos, baths and oils. I feel very blessed to help clients improve their situations whenever possible. I look forward to helping you live your best life.
You may read more about me at my Roots Herbs Love website.
I offer hoodoo psychic readings with these tools and methods:
Card Readings , Psychic Readings , Astrological Readings, Natal Charts, Bibliomancy, Communication with the Dead and with Spirits, Pendulum Readings, Interpretations of Dreams, Signs, and Omens, and Runic Divination.
I use conjure to help you with these spiritual conditions:
Love and Reconciliation, Money and Business, Blessing and Healing, Career and Mastery, Protection, Uncrossing and Road Opening, Court Case and Legal, Spirituality, Crossing and Revenge
I perform rootwork using these spell casting techniques:
Altar Work and Prayers, Containers: Bottle, Jar, Box Spells, Astrological Talismans and Amulets, Setting Lights, Spiritual Cleansing, Bathing and Smoking, Doll Babies, Prescribing Magical Supplies, Mojo Bags, Spell Casting, Talismans and Amulets, Working with Spirits, Exorcism, Spirit Removal, Working in the Graveyard, Working at the Crossroads, Working with Angels, Working with Deities, Working with Saints, and Magical Coaching.
Testimonials
"I feel so blessed to write this review for Ilona Bliss, who has made a difference for me in my life and my issues. I approached her not really knowing what to expect and I must say, I was so pleasantly surprised! Ilona is always open and genuinely concerned, ready and willing to help. I attest to her high level of knowledge, skills and services. Combined with her positive attitude, genuineness and sincerity, you will be very happy. She goes above and beyond!" -- F.E.
"Ilona was on point with my read. It's amazing that someone who you don't know can know so much about you." -- A.C.
"Ilona is a very gifted reader. She gave a detailed reading which total resonates with me. Took time and effort to answer my queries regarding the cards. One of my best readings." -- H.V.
"Ilona is kind, straightforward, and incredibly adept at her craft. Her reading was one of the most accurate I've ever received and her personal insighs were deeply appreciated. I highly recommend her to anyone looking for guidance or clarity, you won't be disappointed." -- G.J.
"Ilona Bliss did a delightful reading for me and was very thorough and accurate. She did a great job explaining every card she pulled. If I had questions, she reviewed the various meanings the cards have to help me understand my reading better and how they apply to my situation. I would definitely have her read for me again." -- E.V.A.
"Ilona is a true intuitive. As my life was doing back flips, she was able to give me messages and insight through the tarot cards which spoke exactly to the situation I was facing without her having any prior knowledge of my situation. Her presence is grounded, extremely kind, and honest. Being able to touch in and receive guidance helped me move through stuck energy and take action with more comfort and clarity. She is truly a gifted light worker and I am so grateful she was a pillar for me when I needed it." -- N.C.