From Bottle Up and Go!: The Magic of Hoodoo Container Spells in Boxes, Bags, Bowls, Buckets, and Jars by catherine yronwode and Lara Rivera © 2020 catherine yronwode and Lara Rivera:
Traditionally, whole raw eggs are used for cleansing, but filled eggs are found in a variety of spells. Sometimes the raw egg is blown out and refilled with magical ingredients; sometimes a hole is made and ingredients are introduced into the egg with a knife point or stirred up inside with a hat pin.
1. AN EGG FOR PROTECTION
On April 6, 1939 in Florence, South Carolina, in the home of Henry Timmons, "Informant #1321" told Reverend Hyatt: "If anyone is trying to harm you, especially if it's around your neighbourhood, […] take a egg […] get some Graveyard Dirt, [Dirt] Dauber Nest, cooking Salt, and Sulphur, fix it up [inside the egg and place the egg] under the steps."  
2. A FIXED EGG TO DESTROY A NEW RELATIONSHIP
If someone you care for has met a new friend and you want to keep that friendship from growing, carefully break the point end of an egg to let the contents flow out. Set the egg shell in a jar in a dark place to dry overnight. Cook the egg and eat it yourself; don't give it to anyone else. Next morning, write a small paper with both peoples' names on it, and draw a line through the new friend's name. Fold this into the egg shell. Fill the egg shell with Red Pepper, Poppy Seeds, and Black Mustard Seeds, seal it, and carry it to an overpass where cars or trains drive under. Shake it up as you say, "Lord, these two are not good for each other and surely trouble will come if they don't stay apart. Break up this friendship and let it be forgotten." Then toss the egg off the overpass where it will break and be run over.
3. DRIVE SOMEONE AWAY WITH THEIR NAME IN AN EGG
In March 1938 in New Orleans, Louisiana, a rootworker known as "Informant #810" told this spell to Reverend Hyatt: "You put a little hole in the shell of a raw chicken egg and draw that raw egg out. Take a person's name and write it nine times, put the name paper in that egg shell and stop it up [with wax]. Throw it in the river, and as long as that egg will float and drift down river, that person will drag, they will drift."
4. TO HOODOO SOMEONE WITH GUNPOWDER IN AN EGG
Newbell Niles Puckett gave an old hoodoo spell collected by Fanny D. Bergen in 1890: "Make a hole in an egg and stir Gunpowder into the contents." Bergen did not tell how to deploy the spell, but it is traditional to hide such an egg under the foe's house to catch them unawares or to throw and break it on their door to let them know that spiritual warfare has begun.
5. TO DRIVE AWAY AN UNWANTED NEIGHBOUR
This can't be used on enemies in tall buildings, but works with one-story homes. Write the neighbors' names on an egg, prick it with a thin knife, and use the knife to load it with Gunpowder for fights, Graveyard Dirt for sorrow, Cayenne powder to drive them off, and Sulphur powder to send them to Hell. Throw the egg over their house so it breaks on the other side.
6. RUN SOMEONE CRAZY WITH HAIR IN AN EGG
In March 1937, in Norfolk, Virginia, Doctor Paul Bowles told Reverend Hyatt to, "Pick a hole in an egg, blow out the insides, put a person's head-hair in it, write the person's name on the egg shell, seal the hole [with soft wax], and throw the egg into running water. This runs the person crazy."
7. KILL SOMEONE WITH A HEN'S EGG IN A BIRD'S NEST
In October, 1939, Reverend Hyatt learned this spell from "Informant 1520," a professional rootworker in Memphis, Tennessee:
   "If you want somebody to die, you take a black Hen's egg and you put it up in a bird nest and when the Sun dries it up, why, that kills them. How do you do it? Well, you write the person's name on that egg with ink, and you run four needles or four long black hatpins through that. First you put one through one end and one through the other, lengthwise of the egg, and they will cross each other in the middle. Then you go from side to side. You run the third one through from one side to the other, and you turn it over and run the fourth one through the other way, crosswise. You cross the four of them, to make a cross inside the egg. You use a spool of black thread and wrap that up nine times and tie a knot, and nine times more and tie a knot, and keep doing that, nine times and a knot. You wrap it up good and use the whole spool of thread so that nobody can tell it's an egg, and you put that in a bird nest, up in the tree. When you do that you're wavering a person's mind — you're running a person crazy. And when that egg dries up, they will die."
8. A BLACK BOTTLE BREAK-UP IN A GRAVEYARD
Start with an empty bottle of Black Bottle Brandy or any black bottle with a screw-cap. If you don't have one, paint a clear bottle with three coats of black nail polish. Get a photo of each person. If it shows them together, cut it in two. Cross out each face with an X while cursing them with doubt: "He doesn't want you, he's seeing another woman, you are not good enough for him, he's going to leave you." Put each picture in the bottle separately. Break an egg into a bowl, use a Coffin Nail to scramble it with Black Pepper, Black Mustard Seed, and Black Salt, pour the mixture into the bottle, and top it off with Vinegar. Poke two holes in the bottle lid with the nail, drop the nail in, and cap it. Bury this upside-down in a graveyard, saying, "Your love for each other will run out and die! As the egg is broken, as the vinegar sours, as the dead go to the earth, let your love die! Let it die! Let it die! Let it die!"
9. WAR WATER TO MOVE OUT BAD NEIGHBOURS
In 1931, Zora Neale Hurston wrote in "Hoodoo in America" to "take a fresh black hen's egg, make a hole big enough to get the egg out and take the [neighbours'] names, Pepper sauce, and [prepared] Mustard and fill the egg up and soak it in War Water for nine days and throw it over the house, and it will cross the house and they will have to move away."
From Paper in My Shoe: Name Papers, Petition Papers, and Prayer Papers in Hoodoo, Rootwork, and Conjure by catherine yronwode © 2015 catherine yronwode:

10. TO SEND AN ENEMY AWAY
Write your enemy's name with a pencil on a Black Hen's egg and soak the egg for nine days in Four Thieves Vinegar to which you have added Red Pepper and Black Salt. At midnight of the ninth day, carry the egg to a crossroads and, holding the egg in your hand, dance around the forks of the road, cursing your enemy, and sending your hatred into the egg. At the climax of your dance, throw the egg sharply to the ground, breaking it, then walk away silently and quietly, and don't look back.
From The Art of Making Mojos: How to Craft Conjure Hands, Trick Bags, Tobies, Gree-Grees, Jomos, Jacks, and Nation Sacks by catherine yronwode © 2018 catherine yronwode: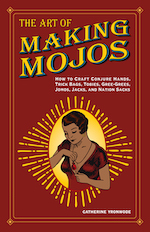 11. TO ENABLE A CHILD TO TEETHE WITHOUT PAIN
Take a raw egg, write the baby's name on it in ink, place it in a muslin Tobacco sack, and hang it over the door to the baby's bedroom. The egg will dry out, and the child will teethe without pain.
12. FIVE-FINGER GRASS PROTECTS YOUR HOME
Folks say that if you hang a bag of Five-Finger Grass over the fireplace mantle, hidden behind a picture or a mirror, no one will be able to drive you from your home. Likewise, the bag may be hung over your bed to protect you from evil while you sleep. If you blow out and dry an egg, stuff it with Five-Finger Grass, seal the hole with wax, and keep it hidden in the home, the family will be protected from enemies.