The energy of Venus is known to produce vibrations of love, passion, beauty, fertility, wealth, and victory. Although her origins are of Roman descent, this same energy is embodied by other deities in various traditions: Aphrodite (Greek), Isis (Egyptian), Oshun (Yoruban) — just to name a few.
For a brief period, the Planet of Venus was in retrograde, meaning, the energy that is produced by this planet was moving away from us. Now that Venus has gone direct, it is a good time to look forward to positive relationship building. We can also work on understanding the love language of our partners and increasing our passion, as  relationships heal from the hiccups that may have erupted from the retrograde of Venus. 
In this article, we will create an herbal mixture that has various ways of deployment to help raise your love and protection vibrations. Keep in mind that to manifest anything you must vibrate on the right frequency.
Let's quickly discuss two of the main ingredients in our herbal pow-wow:
Passion Fruit Leaves and Hibiscus
Passion Fruit falls under the Venus umbrella with various healing properties and can produce a state of calmness while stimulating your aura to kick start the healthy growth of love energy.
Hibiscus also resonates with Venus energy and can serve as an aphrodisiac to increase passion — and to draw blessings and protection to couples.
Working Passion Fruit and Hibiscus together may give your spell work just the turbo boost it needs!
This herbal combination is designed to help enhance your love life by magnifying your protection and love vibration frequency. It can be used to design a Spiritual Bath, Condition Powder, Condition Spray, Condition Incense, and Candle Dressing.
The Honey Love Passion and Protection Mixture by Lady Muse is best used when your power is feeling down. Add a pinch to your work. Always remember less is best – just a pinch! In addition, we want to mix our ingredients and work with them during the planetary day and hour most suitable to raise the vibrations of Love and Protection. In a Waxing Moon cycle, the most useful planetary day and hour for this energy would be Friday during the hour of Venus.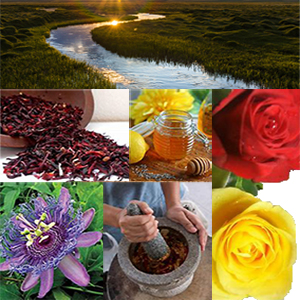 Items Needed:
• Passion Fruit Leaves
• Cinnamon
• Ginger
• Hibiscus
• Honey (Taste It First!)
• River Water (Spritz)
• Red and Yellow Rose Petals
• Mortar and pestle
• Mixing Bowl 
• Pastry Brush or half inch paint brush
Instructions:
First, cleanse your work area and take a cleansing bath. Then gather your ingredients during the hour of Venus. With a mortar and pedestal grind your dried herbs and rose petals together to combine the dried ingredients.
Next, taste the honey and then place five drops in the bottom of the mixing bowl. Use a brush to spread the honey within the inside of the bowl. Next, sprinkle your combined herbal mixture in the bowl and spritz it with the River Water. Pray over your mixture to awaken the Ashe of Love, Passion, and Protection within the mix and thank the Spirits for providing their service. Lastly, let your mixture sit and charge in the Sun during the hour of the Sun. 
Now your Honey Love Passion and Protection Mix is Ready for action! Enjoy!