Join me for a Wicked Conjure Workshop, December 19, 5:00-7:00 pm CST, when I'll teach you how to find the magical opportunities in your merry-making. For instance, you can give your Christmas wreath a Hoodoo protective "flair" with:
HOLLY:  Means "holy" and was used at Yule in Druid and Scandinavian pagan paths. It is said to protect the home and bring in good luck. Often placed above a doorway for protection and to invite in helpful spirits.
MISTLETOE: Used to keep away evil and enemies, as well as prevent "love jinxes."
FERN BRANCHES:  Ferns are to prevent evil from entering the home and for reversing hexes.
BAY LEAVES AND BRANCHES: Often found in more decorative wreaths, many may not know that by including bay leaves in your door wreath it is said to ward off evil and drive enemies away. Write petitions on bay leaves and burn in fireplace.
PINE: Use pine branches for the wreath itself or adorn with pine cones to keep away ghosts and other unwanted entities.
Any of the above botanicals can be added to your holiday wreath along with specific Hoodoo oils. Anoint the branches with oils such as PROTECTION to keep out dark forces. HOUSE BLESSING is a great formula to bring good luck, joy, and blessings into the house.  Sachet powders of the same type can be added to the wreath by blowing them onto the branches.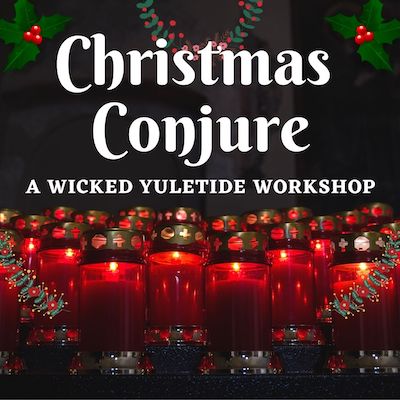 This is just one of the hoodoo tricks I'll be teaching in my Zoom class, "Christmas Conjure – A Wicked Yuletide Workshop," along with how to hot foot your Christmas cards; altering cookie recipes for love, favor, or to expel enemies; turning your ornaments into amulets of protection; and transforming those gingerbread men into "voodoo dolls." Join us on December 19, 5:00-7:00 pm CST.