Several of my clients asked me this year for bayberry vigil candles, so I purchased some bayberry root chips and bayberry oil and set out to fashion these green money and house blessing candles.
I'd heard the poem many times, of course, and even gave Lady Muse a set of bayberry-scented lights to celebrate her shop opening. But little did I realize that the fixed vigils and scented candles seen most often were based on a much older tradition, dating to the colonial era.
The berries of the wax myrtle shrub, grayish white and waxy, can be boiled down into a brittle wax. It takes about four pounds of berries to make one pound of the light oli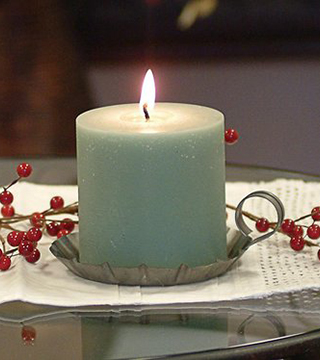 ve green wax, which is clean burning and deliciously scented, unlike the tallow candles used in colonial times.
Saved for special occasions, these candles came to be associated with Christmas and New Year's Eve. Try as I might, I can't date the poem's origins, but it does accord with the traditional use of bayberry in conjure!
I pray the holidays are warm and bright for you all.