I want to share with you my altar dedicated to Gratitude, and help you to create your own.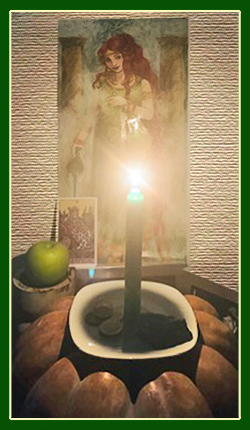 For the altar, you will need:
  • a green or a gold candle
  • the Empress card from the Tarot
  • a fruit basket (apples & grapes)
  • photos of those dear to you 
To make my gratitude elixir, use:
  • spring water
  • a quartz crystal
  • orange peel
  • cinnamon sticks
  • rose essential oil
  • a spray bottle
To make the elixir, add your ingredients to a spray bottle. It will grow stronger over time.
As you set up your altar with the elements mentioned above, spray the gratitude elixir in the air and over the altar. 
Recite your gratitude prayers and light your green or gold candle, focusing on what you are thankful for and what you wish for.