Hoodoo Psychics
1-888-4-HOODOO
Get an instant reading with a hoodoo psychic trained in the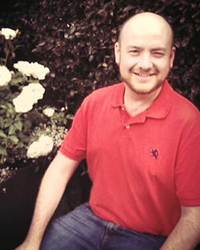 To call me now, using your credit card as a payment method, click on the green "Call Right Now!" button. Your credit card will be billed by Hoodoo Consulting at the rate of $3.99 per minute.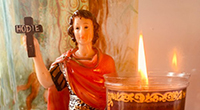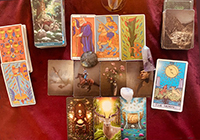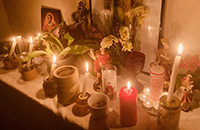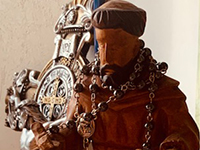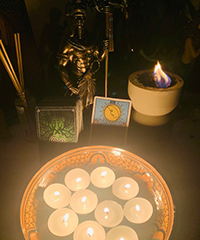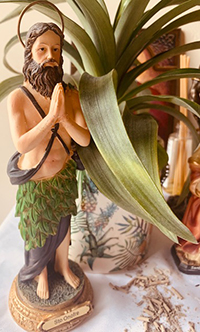 Call 1-888-4-HOODOO ext. 6539
$3.99/min.
I was born with psychic abilities. The moment I knew I had a gift was when I saw my grandmother passing the day before she crossed to the other side, when I was a teenager. 
In my early twenties, I started to learn the Tarot and perform readings. In my thirties, I learned the Lenormand Oracle, which I use as my primary tool for readings. In my forties, I opened up to Mediumship and started to connect with the deceased.
I also decided to learn and practice hoodoo. More often than not, a reading becomes a diagnostic for some work to manifest "the third wish." I can help you with making your own spell. 
My clients include all types of people from all walks of life. From celebrities to everyday people looking to improve their lives. From 20-year-olds to 80-year-olds. I have performed thousands of readings over the years, directly with clients or as an invited guest for events. I was the official psychic at Hotel Triton in San Francisco, where I was doing readings in the hotel lobby for a year. I particularly enjoy business readings, to the point that I have been called "the business intuitive." I have a business degree, speak the business language, and am able to help with marketing, hiring, and sales decisions. I can also help you with relationships, whatever they are. I focus particularly on Soulmates, Twin Flames, and Karmic connections. I enjoy working with clients who are looking into relocations and want to know what places work best for them.
My belief system is multiple. I was born with a Catholic background. I also believe that spirits who crossed over are still with us. I believe in the Law of Attraction. I work with Catholic Saints to get the answers that you need or to ask for their support. In particular, I work with Saint Expedite (all urgent matters), Santa Cecilia (Harmony), Saint Joseph (Real Estate, Home, Work), Saint Cyprian (darker magic), Saint Francis (animals), Saint Sebastian (LGBTQI), Saint Antonio (Love, Marriage, Relationships), Saint Christopher (Travel, Relocation) and Saint Onofre (lost objects, lost people). My guides and spirits are deeply rooted in Water Magic, like the ocean, the rivers, the lakes.
Born in France, near the Brittany area, I am deeply connected to the Celtic traditions and folklore, including Moon and Equinox. I particularly rely on Sulis to help me when I read. In the Celtic polytheism of Great Britain, Sulis was worshiped at a thermal spring in Bath. The Romans regarded her as one of the faces of Minerva, both a nourishing, mother goddess, a defender and healer, and as a bearer of curses. 
You can read more about me at The Third Wish, my website
I offer hoodoo psychic readings with these tools and methods:
Tarot and Card Reading, Psychic Reading, Numerology, Dowsing, Interpretation of Dreams.
I use conjure to help you with these spiritual conditions:
Love Drawing, Romance, Marriage, Fidelity and Reconciliation, Money, Prosperity, Drawing Business and Gambling Luck, Blessing, Cleansing, Healing and Tranquility, Career Success, Personal Powder, Mastery and Wisdom, Protection From Enemies, Warding Off Evil, and Safe Travel, Uncrossing, Reversing, Road Opening, Court Cases, , Spirituality, Mental Influence, Revenge, Break Ups.
I perform rootwork using these spell casting techniques:
Altar Work and Prayers, Candles and Lamps, Mojo Bags and Jack Balls, Cleansing and Baths, Bottle and Container Spells, Oils, Powders, Baths and Preparations, Spell Casting, Talismans and Amulets, Working with Spirits, Crossroads Work, Graveyard Work, Magical Coaching and Spiritual Advice.
Testimonials
"Always a pleasure and love chatting with you. Such incredible support and empathy not to mention your guidance and insight. I appreciate you!" -- Kassie
"As usual straightforward and to the point. Previous readings have all come to pass." -- Jojo
"Wonderful person knew exactly what I was thinking. Got my answer now." -- Sweetlyn
"100% Accurate. Never Disappointed with any reading which I have had with him." -- Katrina
"Always a very insightful and honest reader. Definitely recommended he's very spot on!" -- K
"Thanks for a lovely reading. Such a sweetheart and a very nice reader. He is spot on with what he says." -- Miss
"I love the way he communicates." -- Nichol
"Always keeping it real and straight to the point, he never stops to amaze me with these readings. I feel he connects accurately and precisely when tuning in to your situation. Thank you for having so much patience with me. It really means a lot and certainly does not go unnoticed! I appreciate all of your help with my journey." -- Rebecca
"Unwaveringly accurate. It is astonishing what he sees and how this unfold. He has been a true godsend to me and I am so hoping what he says, this times, works out. Thank you!" -- Mindee
"I really like him. He is direct and helpful. Super feel the empathy when chatting." -- Diana
"Both insightful and wise. Great reader." -- Dani
"Very accurate. I will definitely be talking with you again. Thank you so much for the guidance I needed." -- Panda
"A genuine kind advisor." -- Lynn
"Thank you very much for being a kind hearted person and having the patience to answer my questions. It was truly a positive reading that I really enjoyed. Be blessed." -- Dianna