Hoodoo Psychics
1-888-4-HOODOO
Get an instant reading with a hoodoo psychic trained in the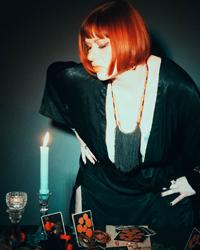 - OR -
To call me now, using your credit card as a payment method, click on the green "Call Right Now!" button. Your credit card will be billed by Hoodoo Consulting at the rate of $3.99 per minute.
To prepay for a scheduled reading using Paypal as your payment method, click the "Pre-Schedule A Reading" button, then select the length of reading you want at the rate of $70.00 for 30 min ($2.33/min). Note that in order to get this SPECIAL PRICE, you may be scheduled as far ahead as TWO TO FOUR WEEKS from today.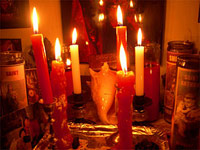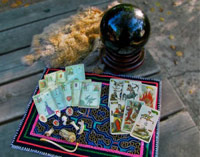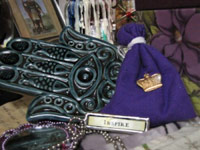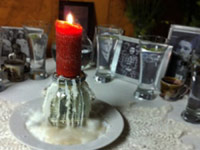 Call 1-888-4-HOODOO ext. 8468
$3.99/min.
My name, Nadia, means hope in Russian. I am a giver of hope — bringing beauty, happiness, and fulfillment to all who seek my help.
Born on the magical terrain of Bessarabia and raised in the holy land of Israel, I realized early on I was gifted for spiritual work. Today, an established clairsentient medium, I begin all magical projects consulting an array of oracular tools and Spirits. In my divination practice I use tarot, the Lenormand oracle, playing cards, chamalangos, bones, scrying, and psychometry, to name a few.
I was born into Eastern European folklore and grew up with Middle Eastern spirituality; I have also traveled to many lands continuing my magical education. My adventures brought me to the shores of the Ganges in India, the countryside of Japan, and even into the heat of ceremonial drums in the heart of Matanzas, Cuba. I am grateful to not only learn the spiritual lessons unfolding on my path, but also gain understanding and appreciation of cultural intricacies allowing me to communicate effectively with clients from all cultures, and their ancestors and spirit guides. I am also fluent in Russian and Hebrew.
I draw great strength from all the traditions I study. I am initiated to the Goddess Kali in the Hindu Shakta Tantra tradition, and am a Palera cut to Madre de Agua. As a practitioner of Espiritismo Cruzado I'm led by my ancestors, spirit guides, Angels, and saints. Archangel Michael, Saint Expedite, and La Madama are especially dear to me. The heart of my spiritual practice, though, is my knowledge of Southern folk magic and practical rootwork.
My experience in the movie business, digital arts, and the beauty industry has led me to specialize in conjure helping folks advance their creative and artistic endeavors. I am a great muse, and will work earnestly to crown all your works with paramount and shining success.
In addition, I am a compassionate and lady-hearted Spirit worker — all concerns of allure, attraction, female mysteries, and motherhood are very close to my heart. I will bring you a partner who would not only satisfy you sexually, but will also stay faithful to you as long as you so desire!
I offer divination services and spiritual coaching. I also enhance psychic abilities, and offer teachings in divination and meditation. I break through blockages of low self-confidence, negative body image, bad habits, crossed conditions, and the evil eye. Together we will manifest artistic and professional success, and bring abundance, fertility, and triumph to your life.
Currently I do not offer reconciliation or break up work. At times I will take legal and protectioncases, and may perform rituals of revenge and hexing if a particular situation is justified in the Spirit's eyes. Before accepting any kind of spiritual project, I seek the permission of my ancestors.
Don't lose hope! I am devoted to facilitating deep soul healing, while teaching you how to attract the love, prosperity, and respect that you deserve and desire.
You can read more about me at my Madame Nadia website.
Testimonials
"Nadia's mastery shines through clearly and confidently as she reads the cards. She is inspiring and insightful, and offers good guidance. It's a blessing to receive a reading from her." K.D.
"I met Madame Nadia in India where she read the cards for me, and foretold the profound and life changing events about to occur! I recommend her with no reservations. Nadia has the direct line!" Nancy L.
"Oh My! Wow, this was right on the money. You really nailed it about the past relationships. I just want to thank you from the bottom of my heart!" Katheryn
"Thank you so much! You gave me a deeper look at the situation as a whole and it was very truthful, informational, and also very forward-looking. This was amazing." Lauren
"I have used Madame Nadia's guidance and assistance many times in the past and have always received gracious and compassionate service as well as accurate guidance and helpful spiritual services. I strongly recommend Nadia, both as a wonderful positive person and as a spiritual healer." Amir
"Madame Nadia is the most honest and accurate reader I've had the fortune to work with. She has a great sense of humor but isn't afraid to be direct, she tells it like it is! Most importantly, she gives you the insight and tools you need for self improvement." Caitlin
"Madame Nadia is one of the most gifted cartomancers I've ever met. Each reading she nails the issue, and brings up something that I wasn't aware of at the time. She's been a great help and a great relief." A. H.
"Madame Nadia is an exceptionally gifted reader. I had a number of private readings with her, and recommended her to my friends. She has a rare talent." Jenny K.