Hoodoo Psychics
1-888-4-HOODOO
Get an instant reading with a hoodoo psychic trained in the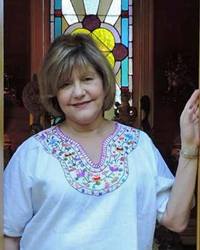 - OR -

To call me now, using your credit card as a payment method, click on the green "Call Right Now!" button. Your credit card will be billed by Help By Phone LLC at the rate of $3.99 per minute.
To prepay for a scheduled reading using Paypal as your payment method, click the "Pre-Schedule A Reading" button, then select the length of reading you want at the rate of $50.00 for 30 min ($1.67/min). Note that in order to get this SPECIAL PRICE, you may be scheduled as far ahead as TWO TO FOUR WEEKS from today.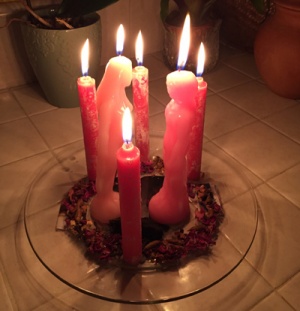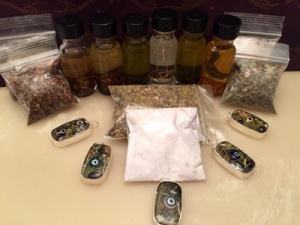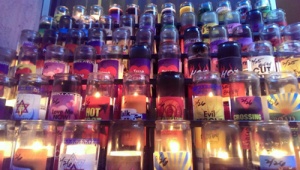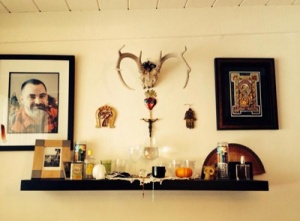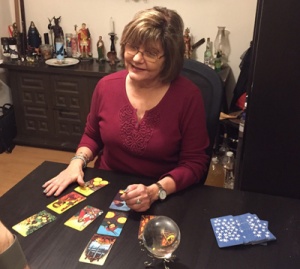 Call 1-888-4-HOODOO ext. 1266
$3.99/min.
My name is Mama E, I was born in Havana, Cuba, the youngest child of immigrant Spanish parents. I was raised Catholic, going to mass every week and fulfilling my sacraments. My mother, although very religious was also very open minded, and instilled in me a respect for all religions and the beliefs of others. As a child, I always had prophetic dreams that I shared with my mother, and had flashbacks of previous lives. She never criticized me and was always supportive of my feelings. When I was 12, I found an article on fortune telling that had a great impact on me. I asked to get a deck of Spanish cards and wrote the meanings on the edges. That was the beginning of my love for divination.
Two years later, due to political oppression, my parents sent me to the U.S. looking for freedom and a safe environment for me to grow up. My life changed radically while I learned a new language and adapted to a new culture. During these years of growth and maturation, I had to put my divination skills aside. It was not until I was 19 years old that once again, I started reading for family and friends, while still using the Spanish deck.
It was not until many years later when my son introduced me to the Tarot, and bought me a deck which I still use, that the divination bug bit me again! My reading skills have evolved through the years, I have learned to follow my intuition and my spiritual guides, making me a spiritual reader and a spiritualist medium. I am also clairvoyant, clairsentient, and clairaudient. These gifts have helped me and guided me through life in my worst moments. I am able to share these gifts with my clients to help and guide them as well.
My life has taken me to places where I never dreamed I would go. I have lived a good life, was able to overcome many difficulties and trials, learning from every single one. I have participated in many different traditions, and was initiated as Yaya in Palo Kimbisa in November 17, 2001, and Olorisha of Oshun (Iyalorde) in the Lucumi tradition on January 19, 2002, in the Bronx, N.Y. I have also studied Usui Reiki, Shamanism, and am a frequent participant of Spiritual Circles in Espiritismo groups, and the Unnamed Path groups.
In 2014, I graduated from the Hoodoo Rootwork Correspondence Course and started to do rootwork professionally. I reside in Southern California where I do readings, spiritual counseling, and rootwork for my clients. My greatest joys have been my children and grandchild, as well as being able to help people. As an added bonus, I am fully bilingual in Spanish and English which helps me serve the Hispanic community. I have walked many paths, some uphill and some downhill, but thank God, I am now living the life I was meant to live.
You can read more about me at my ConjureDoctor.com website.
I offer hoodoo psychic readings with these tools and methods:
Candle Glass Reading and Candle Wax Reading, Tarot Reading, Intuitive Reading, and Clairvoyant Reading, and Pendulum Readings.
I use conjure to help you with these spiritual conditions:
Love Drawing, Romance, Marriage, Fidelity, and Reconciliation, Prosperity, Money Drawing, Business, Blessing, Cleansing, Healing, and Tranquility, Career Success, Personal Power, Mastery, and Wisdom, Protection From Enemies, Warding Off Evil, and Safe Travel, Jinx Breaking, Uncrossing, Reversing, and Road Opening, Court Cases, Legal Matters, Spirituality, Psychism, Mental Influence, and Dreaming, and Crossing, Jinxing, Hot Footing, Revenge, and Break Ups.
I perform rootwork using these spell casting techniques:
Altar Work and Prayers, Bottle, Jar, Box, and Potted Plant Spells, Fixed Candle Spells, Setting Lights, Spiritual Cleansings, Bathing, Foot Washing, Cleansing With An Egg, Smoking, Smudging, Censing, Cleansing of a Location, Doll Babies, Voodoo Dolls, and Poppets, Prescribing Spiritual Supplies , Mojo Bags, Conjure Hands, Nation Sacks, Jomos, Trick Bags, and Jack Balls, Spell Casting, Magical Talismans, Amulets, Charms, and Enchanted Jewelry, Working with Spirits, Ancestors, Petitioning Deities, Archangels and Angels, Petitioning Saints, Working in the Graveyard, Working at the Crossroads, African and African-Diasporic Ancestral Traditions, Working Within the Spiritualist Tradition, and Working Within the Catholic Tradition.
Testimonials
"Mama E. is a wise lady and her reading was hopeful, helpful, and thorough. She explains everything for those who haven't had a tarot reading or a rootwork consultation before, so if you're new to all this, you will find it educational too. :)" -- Cathy, August 18, 2015
"Thanks, Mama E., for a great and accurate reading today. Also thanks for the fantastic advice. I look forward to another reading from you. I highly recommend you, sweetest lady; many blessings to you and all your talent." -- Marinella
"I want to thank Mama E. She gave me hope. This was a great experience." -- Berard
"Mama E. made me feel comfortable, as if she was an old friend I was chatting with on the phone. She laid out the cards and shared what she saw with me, and her advice was very enlightening and on target. I was impressed that she not only addressed my burning question but saw my unspoken question, my concerns about the workplace, and she gave me sound, practical advice that I can actually use to further my professional goals. I am very cautious when sharing my spiritual world with others because I've dealt with negativity in the past, but I am so glad I took the risk and trusted her to do my reading. It was insightful and uplifting and I look forward to talking to her again. Also, the cost was very fair, which made me feel confident in her ethics. Thank you for such a positive and encouraging reading, Mama E., your loving energy shines through and I am grateful for it." -- T.G.
"Mama E. was great. She told me everything that I already knew and gave me some great advice on how to go on with things. A very wonderful woman!" -- C. D.