Hoodoo Psychics
1-888-4-HOODOO
Get an instant reading with a hoodoo psychic trained in the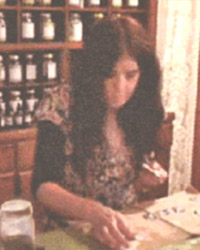 - OR -

To call me now, using your credit card as a payment method, click on the green "Call Right Now!" button. Your credit card will be billed by Hoodoo Consulting at the rate of $3.99 per minute.
To prepay for a scheduled reading using Paypal as your payment method, click the "Pre-Schedule A Reading" button, then select the length of reading you want at the rate of $45.00 for 30 min ($1.50/min). Note that in order to get this SPECIAL PRICE, you may be scheduled as far ahead as TWO TO FOUR WEEKS from today.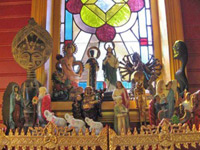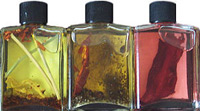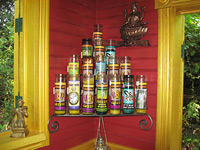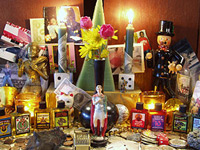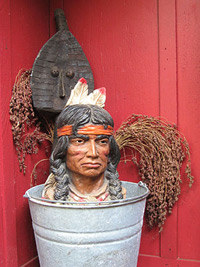 Call 1-888-4-HOODOO ext. 1111
$3.99/min.
I have been a reader and rootworker for most of my life. I first began reading palms and doing numerology, bibliomancy, and tea leaf readings for friends as a child during the 1950s, and took up professional work along these lines as a teen-ager. By 1965 i was also reading tarot cards and the I Ching for clients, and in 1967, i became a professional astrologer. I also offer my services for pendulum readings for yes / no questions, and i am a gifted psychometrist, with a specialty in reading photographs.
I am a writer, teacher, graphic artist, web designer, perfumer, and herbalist, a minister and a member of the Board of Bishops of Missionary Independent Spiritual Church, a founding member of AIRR, and a member of the board of directors of the Yronwode Institution for the Preservation and Popularization of Indigenous Ethnomagicology (YIPPIE). My husband nagasiva and i are co-owners of the Lucky Mojo Curio Company manufactory for spiritual supplies.
I teach a one-year intensive course in spiritual conjure practice. All the Associates of AIRR have graduated from this Hoodoo Rootwork Correspondence Course, and more than 1,650 other students, both professional spiritual workers and home-practitioners, have enrolled in it.
I live in the small town of Forestville in Northern California, so i work with clients by telephone or in person. I am always open to seeing those who wish to travel to visit me, but please book time in advance, to ensure that i will be around when you come calling.
You can book paid spiritual consultation and rootwork advice time with me on the phone or in person, the same way you'd book a reading, and at the same rate. We can talk about anything that interests you. For instance, i can prescribe conjure supplies for your condition or situation, teach you the use of appropriate Psalms, give you magical spells by direct verbal instruction, or i can advise you about your spiritual path. If your interests range farther afield, i can also describe for you various aspects of world-wide folk magic, discuss old-time rural acoustic blues and country music, recommend ways to improve your business presence on the world wide web through search engine optimization, and bring you up to date on recent medical studies on the relationships between ethnicity, genealogy, and genetics.
Through Missionary Independent Spiritual Church, i offer candle services with petitions and prayers on behalf of clients. All candles are fixed and prepared, with a hand-written candle report sent to you by mail after the candle has finished burning, in which you will receive a brief candle glass divination, describing the signs and significations we found while tending to your prayer light.
All of my readings and spiritual counselling sessions are conducted within the premises of Missionary Independent Spiritual Church, to which i donate a percentage of my income from readings, as a way of supporting the church's outreach work, which includes the organization of the Association of Independent Readers and Rootworkers.
You may read more about me at my Lucky Mojo website.
Testimonials
June 1998: "Thanks for the advice about how to avoid getting cheated by fake psychics. That saved me from making a very expensive mistake." G. L.
August 1999: "Thank you for the mojo hands. I won over $7,000 in blackjack online, which is incredible. Natural ingredients make a big difference." M.S.
March 2000: "Just wanted to say how great the triple-strength Money-Drawing Mojo Hand I got from you is. I have only had it a short while, but I am finding money in parking lots, in lounges, and just yesterday, in my modified 13-game lottery wheel, I had 11 winners." K. S.
July 2000: "Some months back you made a healing hand for my nephew. Within a month, his blood-work was back to normal, and his doctor visits reduced. He has continued to receive good checkups since then." M.K.S.
October 2002: "My Law Keep Away package worked wonderfully. I had involvement with the police last week, and before they could utter one sentence a call came through across the CB [and they] left immediately." E.B.
September 2006: "I ordered some things from you for a court case. I was on trial for a crime which I did not commit. Although the case appeared as though it was not going in my favor, the final words were "not guilty" and I was acquitted." A.
March 2009: "I'd like to thank catherine yronwode for setting lights and prayer for me during a bad divorce and custody battle. Never had to say one word in court and we came to a settlement that day at the courthouse outside the courtroom." D.N.A.
March 2009: "The reading I received from cat was honest and intuitive, and she gave me some valuable life coaching that is worth more than I can ever repay her for." S.H.