Hoodoo Psychics
1-888-4-HOODOO
Get an instant reading with a hoodoo psychic trained in the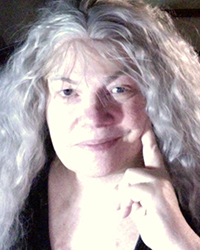 - OR -

To call me now, using your credit card as a payment method, click on the green "Call Right Now!" button. Your credit card will be billed by Hoodoo Consulting at the rate of $3.99 per minute.
To prepay for a scheduled reading using Paypal as your payment method, click the "Pre-Schedule A Reading" button, then select the length of reading you want at the rate of $30.00 for 30 min ($1.00/min). Note that in order to get this SPECIAL PRICE, you may be scheduled as far ahead as TWO TO FOUR WEEKS from today.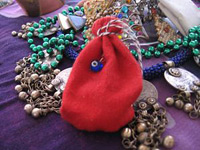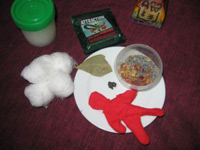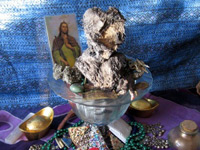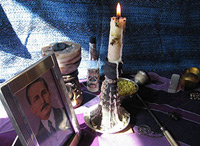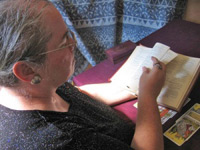 Call 1-888-4-HOODOO ext. 7713
$3.99/min.
Like many people, I came to spiritual work in search of power, and then realized that I was not the only person I wanted to empower. From childhood, my dream and prayer for the world has been peace, splendor, love and prosperity for all the earth's inhabitants.
I am the daughter, sister, and mother of spiritually gifted women. My mother saw the dead; my sister has prophetic dreams and is a medium; my daughter works with spirits. However, I am the only person in my family who is trained in the old-style traditional Southern rootwork.
I came to spiritual work in mid-life. My sister tested me for signs of spiritual power -- seeing auras, receiving impressions from someone holding a single picture in his mind, guessing Zener cards -- and found that I had a gift for prophetic dreams.
The tarot card deck has become a good friend to me since I first picked one up over a decade ago. I hew pretty closely to Arthur Edward Waite's system of tarot card interpretation; it is nuanced and makes it possible to offer consolation as well as to speak hard truths where they are needed.
I practice bibliomancy with the Bible, and I like it very much. Usually it adds a strong, clear, more detailed testimony to the story told by the cards. I can also make you a Triple Strength Bible hand, a mojo hand which contains an entire pocket New Testament.
I have known new clients to be heralded in my dreams, though as the images are heavily symbolic, I don't always recognize them until the client calls and tells me her story. More than once, I have been influenced by my dreams to take a rootwork case, and have been successful.
When you call me for a reading, I, the cards, and the Bible will be able to tell you a clear, coherent story. I often lay out cards before you say a word, only to have you confirm the meaning of the cards with your own experience.
I read signs in candle wax, which is why I prefer to use free-standing candles in my altar work and prayers. I can also discern the progress of a job by reading the activity of a candle flame and the amount of soot it leaves on glass jar candles or vigil lights. Naturally, I share this information with my clients.
My strongest areas of work are love, prosperity, blessing, and cleansing. I often cast "tandem spells", where you and I work the same magical spell together at the same time; you will be supplied all necessary materials and instruction to complete your end of the work while I do mine.
I do not do jinxing or crossing work at this time, though I do see the need in some cases and would not hesitate to refer you to someone who can do it.
You may read more about me at my Hoodoo Foundry website.
I offer hoodoo psychic readings with these tools and methods:
Bibliomancy, Candle Readings including candle glass and candle wax divination, Tarot Cards, Interpretations of Dreams, Signs, and Omens, Spiritual Consultation and Rootwork Advice, Magical Coaching
I use conjure to help you with these spiritual conditions:
Blessing, Cleansing, Healing, and Tranquility, Love Drawing, Romance, Marriage, Fidelity, and Reconciliation, Prosperity, Money Drawing, Business, and Gambling Luck, Career Success, Personal Power, Mastery, and Wisdom, Protection From Enemies, Warding Off Evil, and Safe Travel
I perform rootwork using these spell casting techniques:
Altar Work and Prayers, Mojo Bags, Candle Spells, Vigil Lights, and Custom-Dressed Tapers, Custom Herbal Spiritual Bath Blends, Doll Babies, Honey Jar Spells
Testimonials
"Your products [candles and herbal bath blend] look and smell beautiful."
"I'd like you to be my permanent rootworker, because I feel comfortable discussing my problems with you. You know how to deal with life much better than I do."
"You really – I mean really – get into the reading. You care about the people you have coming to you for help and that comes across when we speak. THANK YOU SO MUCH!"
"Just as good as any therapist, I have actually seen so much results with her help. ... I believe her good magick helps strengthen my work. ... Excellent listener too and always good advice. Exceedingly accurate too ... very motherly."
"The most honest spiritualist I have ever met."
"I love how you use Biblical scriptures during your readings. You have given me hope to conquer any situation."
"Miss Michaele made me a Steady Work mojo that made a great difference in my life."
"Thank you so much, Miss Michaele, for letting me embrace The Light again and realize that this is and will become my only Reality since I gave my will and life over to my Lord Jesus The Christ!!! ... Last night I just crashed into a deep, refreshing sleep. I will recommend you to everyone I meet who needs help getting through this difficult Life. God Bless you always, Miss Michaele and all the good works you do!!!"
"Since you lit those two reversing candles for me, my wife's family has quit trying to turn her against me, my band got a gig in a club we've been trying to get into for years, and I have a new job where I 'get paid for being myself,' just like you said I should do!"