Hoodoo Psychics
1-888-4-HOODOO
Get an instant reading with a hoodoo psychic trained in the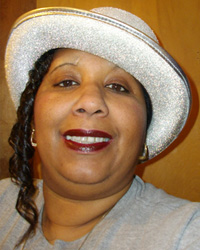 - OR -

To call me now, using your credit card as a payment method, click on the green "Call Right Now!" button. Your credit card will be billed by Hoodoo Consulting at the rate of $3.99 per minute.
To prepay for a scheduled reading using Paypal as your payment method, click the "Pre-Schedule A Reading" button, then select the length of reading you want at the rate of $75.00 for 60 min ($1.25/min). Note that in order to get this SPECIAL PRICE, you may be scheduled as far ahead as TWO TO FOUR WEEKS from today.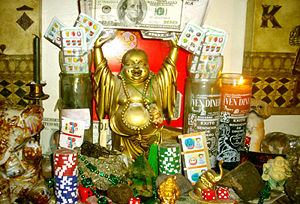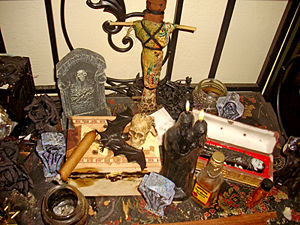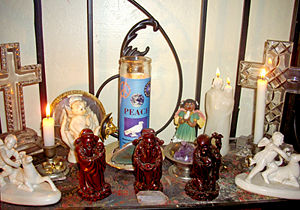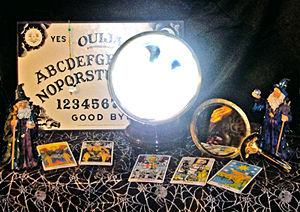 Hoodoo Psychic
Ms. Robin
Call 1-888-4-HOODOO ext. 2828
$3.99/min.
I am an old-fashioned and traditional hereditary reader and conjure woman living and working in Berkeley, California.
As a reader, I will tell you the truth, not just what you want to hear. I can see things which may be hidden from you, and when I see them, I will tell you. I will not sugar-coat the situation just to keep you coming back for more readings. I provide my clients with accurate clairvoyant and intuitive psychic readings, employing tarot cards and a pendulum as divination tools, while also working with the Bible and with spirits.
As a root woman, I am prepared to prescribe herbal teas, baths, oils, incense, and floor washes for you to use at your home while I simultaneously pray for you and cast spells for you at one of my own candle spell altars. I can perform cleansing, protection, and blessing work either long distance or at your location in the Bay Area. If I come to your place, I can lead you in a rite of spiritual house cleaning and give you the benefit of my practical advice about altar placement and set-up so that you can learn how to perform conjure work on your own or under my guidance.
As a conjure woman with many years of experience, I am a fast worker and a bold one. I am from the old school and you will feel it when you see my work. I can make you a mojo hand, prepare a doll-baby to suit your needs, or set lights for you on my altar. In situations where God's justice favors your case, I may be able to help you win against your enemies.
Both in-person and by telephone, I provide spiritual training and magical coaching for clients who seek an introduction to hoodoo. I have led many well-attended workshops and training sessions in conjure topics such as in money magic and working with doll babies through the auspices of the annual Hoodoo Heritage Festival Workshops, of which I am a founding member; my writing has been published in The Black Folder: Personal Communications on the Mastery of Hoodoo.
I am here to help you clear away old messes and protect yourself against further troubles. I am here to help you enjoy the confidence, luck, power, and satisfaction in life that God intended you to have. My best clients are those who come to me ready to rapidly improve their lives, to win, and to succeed. I am honest and if I feel that I can't help you, or if my readings show that your goals are not feasible, I won't take your case as rootworker.
I specialize in unlocking blocked or jinxed gambling luck, job-getting and career success, drawing romance and love, and court case spells. I will remove crossed conditions, hexes, and jinxes, and I may undertake to get spiritual justice for you if you have been hurt. I will put curses on your enemies if, after divination and prayer, I am led to believe that your case is justified in God's eyes.
You can read more about me at my Robin's Mojo website.
I offer hoodoo psychic readings with these tools and methods:
Card and Tarot Reading, Bibliomancy from the Bible or Other Sacred Books, Psychic Candle Reading, Pyromancy, Ceromancy, and Wax Reading, Gifted Pendulum Readings,
I use conjure to help you with these spiritual conditions:
Love and Reconciliation, Money and Business, Blessing and Healing, Career and Mastery, Protection, Uncrossing and Road Opening, Court Case and Legal, Spirituality, Crossing and Revenge
I perform rootwork using these spell casting techniques:
Altar Work and Prayers, Candles and Lamps, Mojo Bags and Jack Balls, Voodoo Dolls and Doll Babies, Cleansing and Baths, Bottle and Container Spells, Oils, Powders, Baths and Preparations, Spell Casting, Working with Spirits, Magical Coaching, Working Within the African and African-Diasporic Tradition
Testimonials
"The reading you gave was awesome, not only because you identified the issues so clearly, but also because I could hear the care and concern in your voice and that meant a lot to me."
"Thank you for the teaching at the Workshop on how to lay out a personal money altar. I had never considered some of the things you explained before, but you made it all very clear to me, and I am going to take your advice and suggestions. Thanks for helping."
"I was so inspired when I saw your money altar that I decided to make one of my own. I took some ideas from you and added my own ideas, and began burning candles on it, just like you told me to do. A week later I won big at the Casino. You have empowered me! I know that magic is about more than winning, it's about Attitude, but the winning is a pretty good way to start!"
"During my reading, you told me that [my husband] was cheating, and that I would get proof soon. It happened just the way you said it would. His cell phone records showed calls to [his girlfriend] and when I asked him, he confessed. You were right also when you said that I would feel better when I found out, and I really do."
"No rootworker in my area would take on a case of spiritual revenge for me, but I found you on the internet and you agreed to do the work because it was justified under the circumstances. The results were better than expected; not only is [he] in jail, he has also been diagnosed with a serious illness. Thank God -- and thank YOU for your help during my difficult time."