Hoodoo Psychics
1-888-4-HOODOO
Get an instant reading with a hoodoo psychic trained in the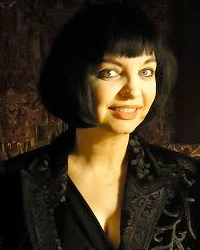 - OR -

To call me now, using your credit card as a payment method, click on the green "Call Right Now!" button. Your credit card will be billed by Hoodoo Consulting at the rate of $3.99 per minute.
To prepay for a scheduled reading using Paypal as your payment method, click the "Pre-Schedule A Reading" button, then select the length of reading you want at the rate of $50.00 for 30 min ($1.67/min). Note that in order to get this SPECIAL PRICE, you may be scheduled as far ahead as TWO TO FOUR WEEKS from today.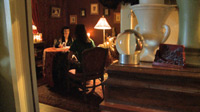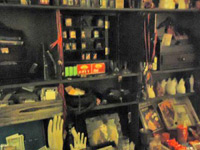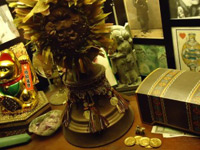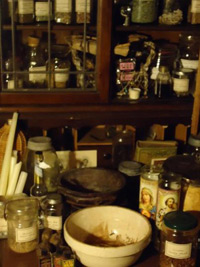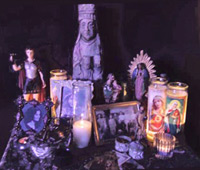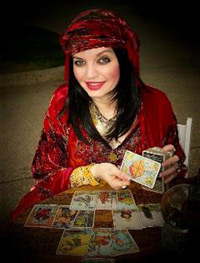 Call 1-888-4-HOODOO ext. 1700
$3.99/min.
Are you confused about a current situation?
Do you wish you could know what will happen next?
Does your love life have you concerned?
Would you like to know what's really going on?
Do you just feel stuck?
I can help you!
Sometimes life can be overwhelming.
It always seems like difficult and confusing problems cluster themselves and come at you all at once! It's often very frustrating to attempt to sort out everything and make good choices with a clear head.
If only you could see the "big picture" and know what's going on, what's likely to happen, and what to do about it!
Well, you CAN !
I will use a combination of the ancient arts of tarot, astrology, and palmistry to show you exactly what's happening, then I'll show you how to change any situation to your advantage. Every session includes free, clearly-written instructions on precisely the steps to take to create the life you desire!
Imagine how useful and fun it would be to sit down with someone who could reveal what's going on in your life, how you feel about it, and what is likely to happen!
Treating yourself to a reading will leave you feeling excited, clear, centered and powerful.
What Happens In The Reading
To get the most out of your reading, make a list of questions prior to your session. That way, you will be sure to stay on topic in the reading. In your session, ask questions!
Also, write out what you want to accomplish in the reading. If you know what you want to get out of your session and have a clear list of questions, you are unlikely to wander off-topic. When you are in your session, make notes or record the reading.
Many things that come up in a reading will only make sense much later; the only way to remember these things is to record them somehow.
I keep a stock of spiritual supplies on hand and can prescribe products for you to use at home for bathing, cleansing, removal of jinxes, and other forms of conjure work.
After The Psychic Reading
Pay attention to how you feel... Do you feel like you have a plan of action? Do you feel happy and full of energy? Do you feel focused and ready to make your own powerful decisions?
You must remember also that actually getting a reading will affect the future, because you will act differently due to the new information! If you change, your future will change.
Read over your notes a week later and see how you feel then.
File your notes away and read them at future intervals.
About Me
I am a psychic tarot and palm reader in Dallas, Texas. I am a graduate of catherine yronwode's Hoodoo Rootwork Course. I studied palmistry with Judith Hipskind, and am in the Degree Program with the New York Tarot School. I have been published in "Tarot World Magazine" and was featured in the Dallas Observer's "Best Of Dallas 2008."
You can read more about me at my Valentina Burton website.
I offer hoodoo psychic readings with these tools and methods:
Palmistry Readings, Tarot Card Readings, Astrological Readings, Spiritual Consultation and Rootwork Advice, Interpretations of Dreams, Signs, and Omens, Throwing the Bones
I use conjure to help you with these spiritual conditions:
Prescribing Herbs, Baths, Powders, Oils, and Washes, Magical Coaching, Spiritualist Mediumship
I perform rootwork using these spell casting techniques:
Love Drawing, Romance, Marriage, Fidelity, and Reconciliation, Prosperity, Money Drawing, Business, and Gambling Luck, Blessing, Cleansing, Healing, and Tranquility, Career Success, Personal Power, Mastery, and Wisdom, Protection From Enemies, Warding Off Evil, and Safe Travel, Jinx Breaking, Uncrossing, Reversing, and Road Opening, Court Cases, Legal Matters, and Keeping Off the Law, Spirituality, Psychism, Mental Influence, and Dreaming, Crossing, Jinxing, Hot Footing, Revenge, and Break Ups
Testimonials
"In my long life I have consulted many palm readers, both psychic and scientific, and of those still living and practicing, I sincerely believe that Valentina Burton is the best. She not only hit the nail on the head in terms of my past and present, but she was able to give me important and necessary information about my future, all of which proved to be 100% accurate. She is truly gifted." -- J.A.J.
"Thanks again for the reading. You had told me that I was in a good spot in my life as well as doing the soul-searching that I had needed to be doing, and that I was going to find love a little sooner and faster than I had hoped, and sure enough... you were right! I was very happy doing what I was doing and then "he" just popped into my life. You are good :)" -- E.S.
"Fast, accurate, great details and many insights -- truly an authentic and gifted reader." -- L.W.
"You were 'dead on'!" -- L.B.
"Amazing!" -- Jeanene
"Wonderful!" -- Lindsay
"A GREAT way to have some control over your life!" -- Lisa
"She's the real thing!" -- A.J.